Energy Care Monthly Subscription Box
Short description
If you do not have true consideration for yourself, all other relationships can become unsustainable!!! "Kiss your Energy" sounds simple, but it is not easy to practice every day. Especially, when your lifestyle is focused on modern digital tools, and our health and wellbeing are affected by events such as the COVID-19.
Perhaps the biggest lesson of 2020 and 2021 is the ability to take care of your own health every day, so that you can take care of your family and community. Taking care of your health is taking care of your mind – body – spirit energy. Practicing good habits of daily care is necessary, don't wait until problems arise to act.
For people with modern and busy lifestyles, changing to better daily habits is not easy. Especially when the body and mind are affected by factors such as burnout, stress, unsafe consumptions of chemical-filled foods and drinks, pollution, lack of transparency, or social issues, etc.
Drinkizz understands your needs, and launched the product « Energy Care Monthly Subscription Box », to help you increase your mind-body energy, thereby reducing and releasing stress, helping you to be healthy and beautiful every day.
«Energy Care Monthly Subscription Box » is a box containing organic natural energy drinks, energy teas, and videos to help with your fitness, relaxation, and meditation. Drinkizz will also surprise you with monthly gifts full of organic food or organic personal care products. Choosing quality organic products and having a measurable effect on health makes it easy for you to "kiss your energy" on a regular basis.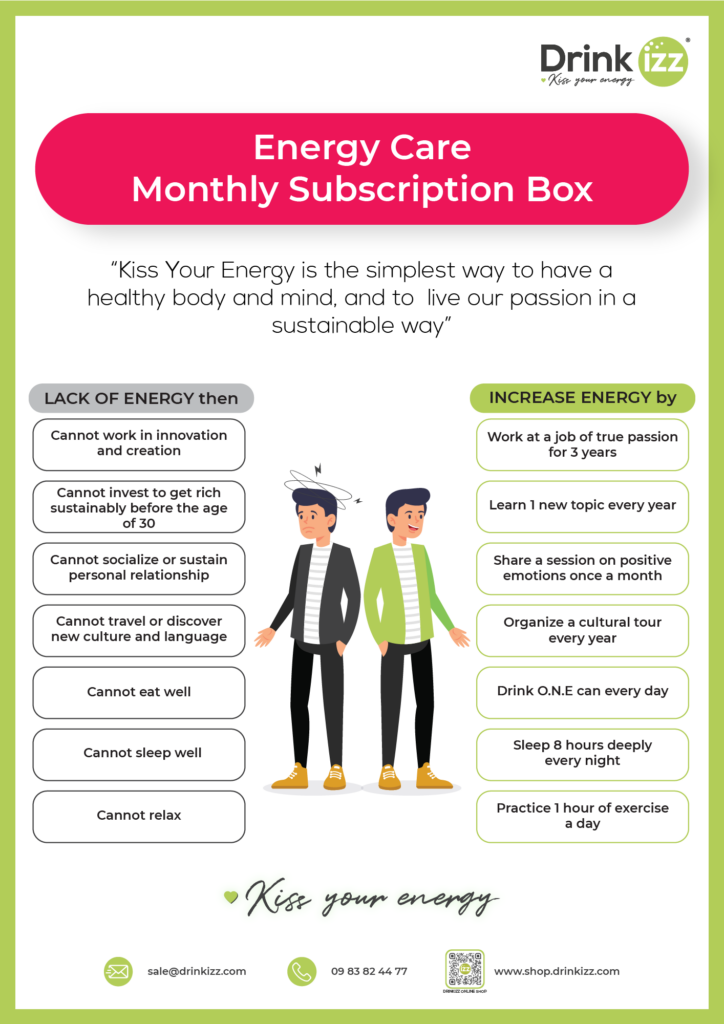 How it works
When you choose a plan to start, you will pay a flat fee every 3 months and receive the goods according to the monthly schedule. You can cancel after 3 months without continuing if you feel it is not suitable.
Each month, on a date of your choosing, we'll mail your membership box free of charge to your home. In this box there will be products depending on the package you have selected. On the same day, we will email videos to help you practice with the leading experts in the field.
Our Quality Standards
ORGANIC
We choose only organic ingredients, which are rigorously tested with prestigious international organic certifications.
NATURAL
We apply a natural manufacturing process to preserve all the flavor and guarantee the best impact on health with high quality natural nutrition
ENERGY
We choose only products which bring you a new durable energy, which is safe for health, and which enhances both your strength and beauty.
Fairness & Harmony
We always serve you with the spirit of innovation, and whole plant- based; it is not only "Fair for People's Health" but also "Fair for Society" and for "Our Mother Nature". Based on the following criterias:
Transparency for your information: we provide measurable information, real reviews from clients and experts so you can verify the product's usefulness before using
Return policy: You will be refunded when you receive the item in a damaged condition, but you cannot return each item if you do not like it.
Do you have to buy the whole box or buy it individually? A box includes the development of body- mind- spirit energy, which when purchased individually, you will not have enough to ensure a comprehensive energy source. We offer a box value that is always higher than the value of the individual product, but the total price of the box is always lower than the price of the product you buy separately.
The price is suitable for income: to be successful, stay young and happy with life, you need to change the energy in and out of your body on an everyday basis. If you divide the amount of box by day, you can see the value paid and the value brought in food, drink, or body care with a guaranteed quality of increased health and energy without risk. Even if you buy and use beautiful but toxic products, not only does your health not improve, but you will also lose money, or relationships. Like a domino effect, you might also lose the opportunity to make more money or more relationships. And so, the road to success before the age of 30 is impossible.